Dear valued customers and suppliers,
Thank you for your continued support to Kete Microwave. The Mid-Autumn Festival & National Day are approaching, by taking this nationwide celebration opportunity, Kete wishes you happy Mid-Autumn Festival & National Day in advance!
2023 Mid-Autumn Festival &National holiday calendar:
HolidayTime: from 29th Sept to 6th Oct, 2023 , total of 8 days.
Work shift on October 7th (Saturday), 8 Oct (Sunday).
Resume on 7th Oct. (Saturday).
In order to ensure that the normal operation of the suppliers and the normal shipping of all customers are not delayed, we hope that you can prepare for stocking accordingly. Kete sincerely reminds you of the following:
First,customers who need to purchase products should place an order before the Sep 28th, so that we can arrange production, shipment and service as soon as possible.
Second, if the suppliers need to settle bills, please contact us as soon as possible.
Last, during the holidays, our company will not arrange for shipping and billing settlement.
If you have urgent questions during the holiday, please send e-mail to sales@ketemicro.com or call 86-595-22597735. We will reply you soon.
Hereby notice.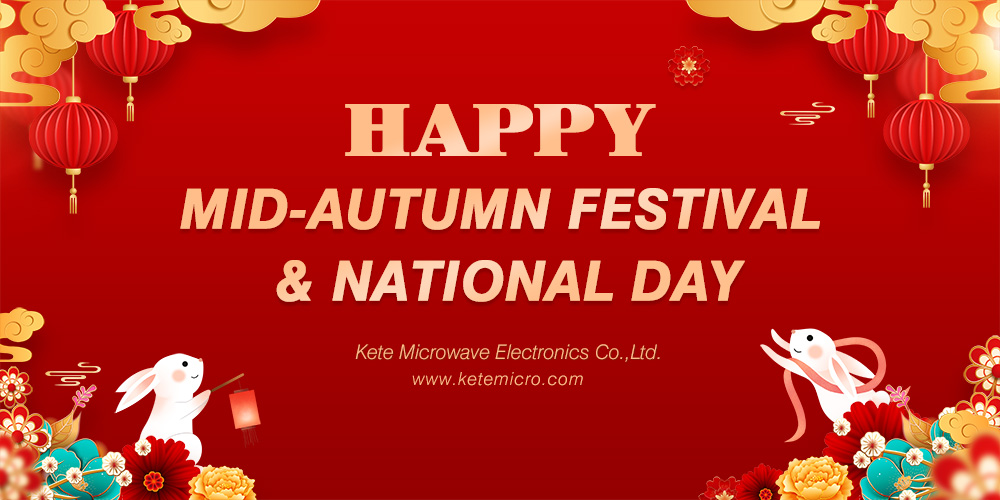 Mid-Autumn Festival, Zhongqiu Jie (中秋节) in Chinese, is also called the Mooncake Festival or the Moon Festival.
As the second most important festival in China after Chinese New Year, Mid-Autumn is an official public holiday. In 2023, the festival falls on September 29th, which is close to China's National Day on October 1st. Therefore, people living in Mainland China will enjoy an 8-day public holiday (from September 29th to October 6th).
In China, Mid-Autumn Festival is a reunion time for families, a little like Thanksgiving. Chinese people celebrate it by gathering for dinners, worshiping the moon, lighting paper lanterns, eating moon cakes, etc.