Flange
Home > Products > High Power RF Terminations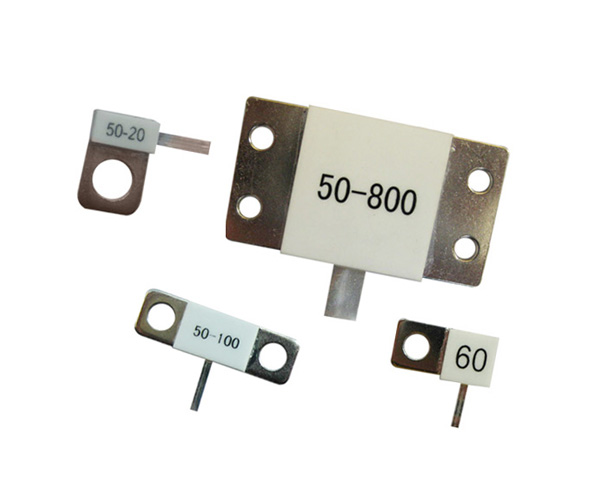 Features
• Nominal Impedance: 50 Ω
• Resistive Tolerance: ±5%; ±2%, ±1% available
• Power Rating: 5W-1000W
• Frequency Range : DC-18GHz
• Operating Temperature: -55℃ to +150℃
• Temperature Coefficient: <150ppm/℃
• RoHS Compliant

Flange E-Catalog
Product Guide
Product Description
Part Number
Power Rating
(W)
Standard Impedance
(Ω)
Frequency Rang
(GHz)
VSWR
(Max.)
Resistive Tolerance
Operating Temperature
(℃ )
Temperature Coefficient
(℃ )
Substrate
Lead Length
(mm)
Dimensions
LxWxH (mm)
FT50-10-3-707A-D-M-J
10
50
DC-3
1.20:1
±5%
-55 to +150
<150ppm
BeO
4
13x4x3
FT50N-20-3-308A-S-L-J
20
50
DC-3
1.20:1
±5%
-55 to +150
<150ppm
AlN
4
7.7x5x3.5
FT50N-20-3-308A-S-R-J
20
50
DC-3
1.20:1
±5%
-55 to +150
<150ppm
AlN
4
7.7x5x3.5
FT50-20-18-402A-S-M-J
20
50
DC-18
1.35:1
±5%
-55 to +150
<150ppm
BeO
4
7.7x5x3.1
FT50N-100-3-503B-D-M-J
100
50
DC-3
1.20:1
±5%
-55 to +150
<150ppm
AlN
6
20x6x2.9
FT50N-150-3-306B-D-M-J
150
50
DC-3
1.20:1
±5%

-55 to +150
<150ppm
AlN
6
22.1x9.5x2.9
FT50N-150-3-323B-D-M-J
150
50
DC-3
1.25:1
±5%

-55 to +150
<150ppm
AlN
6
20.8x6.5x2.9
FT50N-150-3-701B-D-M-J
150
50
DC-3
1.20:1
±5%
-55 to +150
<150ppm
AlN
3.2
22.1x9.5x3.4
FT50-200-9-718A-D-M-J
200
50
DC-9
1.30:1
±5%
-55 to +150
<150ppm
BeO
6
32x12.7x6.2
FT50N-250-3-525B-D-M-J
250
50
DC-3
1.20:1
±5%

-55 to +150
<150ppm
AlN
6
24.8x9.5x4.4
FT50-250-3-019A-D-M-J
250
50
DC-3
1.20:1
±5%
-55 to +150
<150ppm
BeO
3.5
24.8x9.5x5.5
FT50N-250-3-011B-D-M-J
250
50
DC-2.5
1.20:1
±5%
-55 to +150
<150ppm
AlN
6
24.8x9.5x4.9
FT50-500-6-003-D-M-J
500
50
DC-6
1:30:1
±5%
-55 to +150
<150ppm
BeO
8
35x20x7
FT50-800-1.1-102-D-M-J
800
50
DC-1.1
1.20:1
±5%
-55 to +150
<150ppm
BeO
8
48.3x26.4x6.3
FT50-1000-6-801A-D-M-J
1000
50
DC-6
1:30:1
±5%
-55 to +150
<150ppm
BeO
6
40x30x6.6
* Customized products are available, please consult with Kete.
High Power resistors are used as balance resistors on allotter or as absorption edge in hybrid and coupler. They feature broadband frequency, low VSWR, excellent capacity in anti-pulse and anti-burnout etc.
Kete Microwave offers flanged terminations with rated power 5W-1000W, frequency range DC-18GHz. The standard resistor 50Ω.The substrate materials are available with AlN, BeO, or Alumina. All resistive components are RoHS Compliant available. Engineers are welcome to contact us and we will design a Custom High Power Flanged Resistor to your exact specifications.
The applications of high power resistor include splitters, combiners, power divider, isolators, power amplifier, radar system etc.