Dual Junction Series
Home > Products > RF Isolators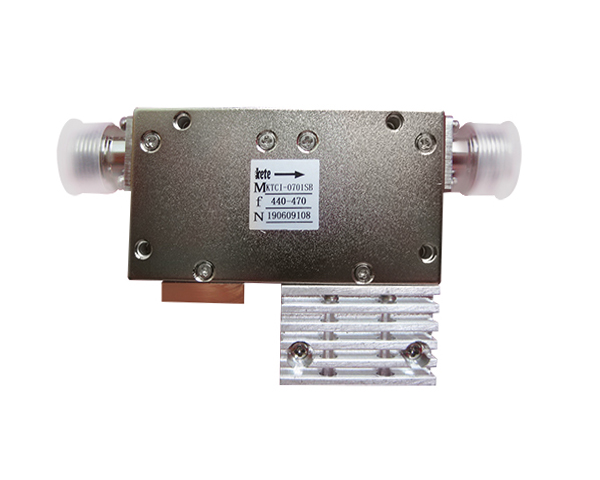 Features
• High Isolation, High Reliability
• Excellent Insertion Loss
• Low Insertion Loss, High Power Handling
• Wide Operating Temperature Range
• Other Custom Connectors are Available, NF or N Male


Product Guide
Product Description
Part Number
FrequencyRange (GHz)
Bandwidth (MHz)
InsertionLoss (dB )Max.
Isolation (dB) Min.
VSWR Max.
Reverse Power (W)
Connector Type
Dimensions
L×W×H (mm)
PDF
KTCI-0101AS
0.14-0.25
10
1.2
36
1.30
10
SMA/N
140×(70+4.5)×22
KTCI0301S-100
0.25-0.50
40
0.8
40
1.25
10
SMA/N
104×(57.5+5)×22
KTCI-0701S
0.5-1.0
75
0.8
40
1.20
10
SMA/N
70×(38+4.5)×20
KTCI-101S
0.8-1.4
100
0.6
46
1.20
10
SMA/N
60×(33+4.5)×20
KTCI-101AS
1.2-2.5
200
0.6
46
1.20
10
SMA/N
50.8×(28.5+4.5)×20
KTCI-201FS
2.0-4.0
300
0.8
46
1.20
10
SMA
50×(25+4.5)×15
KTCI-601S
3.5-8.0
600
0.8
46
1.20
10
SMA
32×26×13
KTCI-1201S
7.0-20.0
1500
0.8
40
1.25
5
SMA
24×20×13
Notes:
1) All the above specifications are at room temperature (25℃±5℃).
2) Standard P/N is Clockwise (CW) Rotation. Add letter "R" at the end to P/N for a Counter Clockwise (CCW) Rotation.
3) Product information are subject to change without notice.
Kete Microwave offers dual junction coaxial isolators from 0.14GHz to 20GHz. The different load positions can be supplied according to your request. The devices with high quality and stable performance are done over a long period of time. All devices are available RoHS Compliant. Customize products are available. Please contact with Kete for other specifications.