Flange
Home > Products > High Power RF Attenuators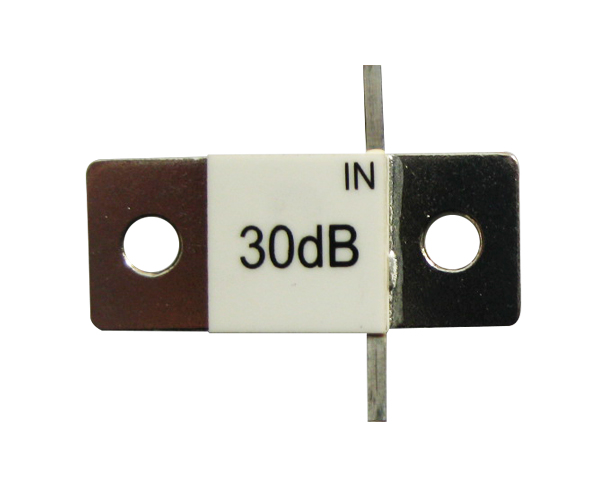 Features
• Impedance: 50 Ω
• Power Rating: 2W-400W
• Frequency Range: DC-6GHz
• Attenuation Value: 1-30dB
• Attenuation Tolerance: 1-10dB ±0.6dB / 11-20dB ±0.8dB / 21-30dB ±1.0dB
• Operating Temperature: -55℃ to +150℃
• RoHS Compliant

Flange E-Catalog
Product Guide
Product Description
Part Number
Power Rating(W)
Frequency Rang (GHz)
Attenuation Value
(dB)
VSWR (Max.)
Dimensions (mm)
Outline Drawing
L
W
T
FA10-20-6-702A
10
DC-6
20
1.25 :1
4
4
1
Figure 1
FA30-XX-3-110A
30
DC-3
1-10
1.20 :1
13
6
3.5
Figure 1
FA30-15-3-110A
50
DC-3
15
1.20 :1
13
6
3.5
Figure 1
FA30-20-3-110A
30
DC-3
20
1.20 :1
13
6
3.5
Figure 1
FA30-30-3-110A
30
DC-3
30
1.20 :1
13
6
3.5
Figure 1
FA50-XX-3-110A
50
DC-3
1-10
1.20 :1
20
6
3.5
Figure 1
FA50-15-3-110A
50
DC-3
15
1.20 :1
20
6
3.5
Figure1
FA50-20-3-110A
50
DC-3
20
1.20 :1
20
6
3.5
Figure 1
FA50-30-3-110A
50
DC-3
30
1.20 :1
20
6
3.5
Figure 1
FA100N-20-3-501C
100
DC-3
20
1.20 :1
20
6
2.9
Figure3
FA100N-30-3-501C
100
DC-3
30
1.20 :1
20
6
2.9
Figure3
FA150N-20-3-332C
150
DC-3
20
1.20 :1
20.8
6.5
2.9
Figure3
FA150N-30-3-332C
150
DC-3
30
1.20 :1
20.8
6.5
2.9
Figure3
FA250-30-1-701A
250
DC-1
30
1.25:1
32
12.7
6.2
Figure 1
* Customized products are available, please consult withKete.
Flange attenuators are used to control the power of microwave signals and are installed in machines. It is small with high accuracy and high stability etc.
Kete Microwave offers flanged attenuators with rated power 2W-400W, frequency range DC-6GHz. attenuation value 0-30dB. The substrate materials are available with BeO, AlN or Alumina. All resistive components are RoHS Compliant available. These RF components are designed and manufactured with high quality materials to guarantee good and stable performance. Engineers are welcome to contact us and we will design a custom attenuators to your exact specifications.