Tab & Cover
Home > Products > High Power RF Resistors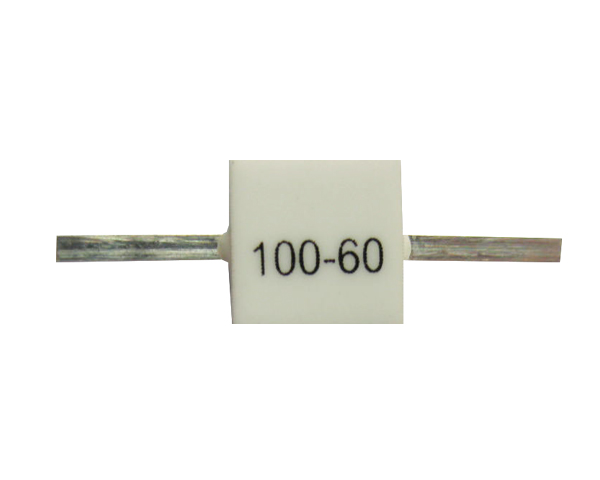 Features
• Standard Resistance: 100 Ω (4Ω~400Ω available)
• Resistive Tolerance: ±5% standard; ±2%, ±1% available
• Power Rating: 5W-800W
• Operating Temperature: -55℃ to +150℃
• Temperature Coefficient: <150ppm/℃
• RoHS Compliant

Tab & Cover E-Catalog
Product Guide
Product Description
Part Number
Power Rating(W)
Dimensions (mm)
Outline Drawing
L
W
T
H
I
Tw
TR100-20-303A
20
5
2.5
1
1.9
4
1
Figure 1
TR100N-20-303A
20
5
2.5
1
1.9
4
1
Figure 1
TR100-60-102A
60
6
6
1
1.9
6
1
Figure 1
TR100-150-208A
150
6
9
1
1.9
6
1.4
Figure 1
TR100-250-504A
250
9.5
9.5
1
1.9
6
2.4
Figure 1
TR100-500-402A
500
12.7
12.7
1.5
2.4
8
2.4
Figure 1
* Customized products are available, please consult with Kete.
High Power resistors are used as balance resistors on allotter or as absorption edge in hybrid and coupler. They feature broadband frequency, low VSWR, excellent capacity in anti-pulse and anti-burnout etc.
TR serial high power resistors rated power 5W-800W. The impedance range 4Ω~ 400Ω available, standard resistor 100Ω.These RF resistors are designed and manufactured with high quality materials to guarantee good and stable performance. The substrate materials are available with Beryllium Oxide (BeO), Aluminum Nitride (AlN) or Aluminum Oxide (Al2O3). The applications of high power resistor include base station, power amplifier, isolator and circulator, splitters, combiners, radar system etc. If your specific requirement is not covered in the following table, please consult with Kete Microwave.