Micro-strip Series
Home > Products > RF Isolators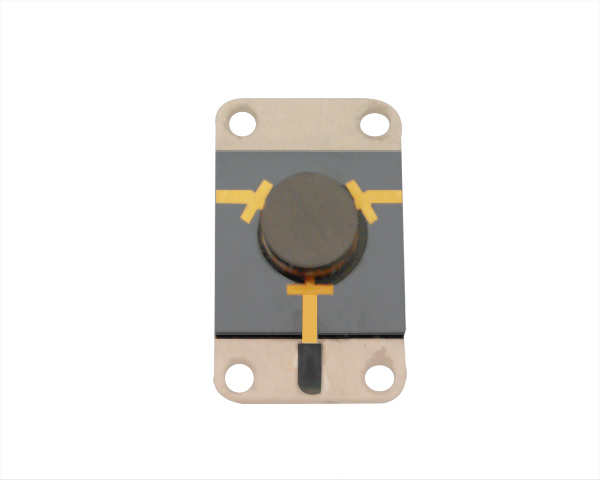 Features
• Broad Frequency Range
• Good Consistency
• Small Size, High Precision
• High Isolation, Low Insertion Loss
• Wide Operating Temperature Range: -55℃~+85℃
• Widely Used in Various Millimeter Wave Radar & TR Components

Product Guide
Product Description
Part Number
Frequency Range (GHz)
Bandwidth
(MHz)
Insertion Loss
(dB) Max.
Isolation
(dB) Min.
VSWR Max.
Reverse Power (W)
Connector Type
Dimensions
LxWxH (mm)
PDF
KTMI-402A2
4.5-5.0
full
0.4
20
1.25
10
GWB
9.8×11.5×4.5
KTMI-502A11
4.0-6.0
full
0.6
16
1.40
10
GWB
10.0×12.0×4.5
KTMI-502A5
5.0-6.0
full
0.5
18
1.25
10
GWB
9.5×11.5×3.5
KTMI-702A
7.1-8.5
full
0.5
20
1.35
10
GWB
10.2×17.2×5.1
KTMI-702A1
7.0-7.5
full
0.5
20
1.25
0.5
GWB
8.0×8.0×3.5
KTMI-702A3
7.0-8.5
full
0.6
18
1.30
10
GWB
6.5×8.5×3.5
KTMI-702A5
5.8-7.2
full
0.5
18
1.25
10
GWB
8.0×10.0×4.0
KTMI-702A7
7.0-9.0
full
0.6
18
1.30
10
GWB
6.5×8.5×3.5
KTMI-902A
8.8-9.8
full
0.5
20
1.25
0.5
GWB
6.0×7.5×4.0
KTMI-902A2
11.9-12.2
full
0.5
20
1.25
0.5
GWB
6.0×7.5×4.0
KTMI-902A3
10.5-10.9
full
0.5
20
1.25
20
GWB
7.1×13.2×5.0
KTMI-902A7
8.5-10.5
full
0.5
18
1.25
20
GWB
7.0×10.0×4.5
KTMI-902A11
13.0-15.0
full
0.6
18
1.30
0.5
GWB
6.0×7.5×4.0
KTMI-902A12
8.5-10.5
full
0.5
18
1.30
10
GWB
6.0×7.5×5.0
KTMI-902A19
8.0-12.0
full
0.6
17
1.35
10
GWB
6.5×8.5×3.5
KTMI-902A42
9.0-12.0
full
0.5
20
1.25
20
GWB
6.0×7.0×3.5
KTMI-1202A
8.0-18.0
full
1.2
11
1.60
20
GWB
8.0×9.5×5.0
KTMI-1202A1
11.0-14.0
full
0.6
18
1.35
10
GWB
6.0×7.0×3.5
KTMI-902A49
11.2-12.3
full
0.6
18
1.30
20
GWB
6.0×7.0×3.5
KTMI-1502A8
15.0-17.0
full
0.6
18
1.30
10
GWB
6.0×7.5×3.3
KTMI-1502A10
14.2-16.2
full
0.6
18
1.30
10
GWB
6.0×7.5×4.0
KTMI-1502A16
12.0-17.0
full
0.8
15
1.45
10
GWB
5.0×7.0×3.5
KTMI-1502A22
14.8-17.2
full
0.6
18
1.35
10
GWB
6.0×7.0×3.5
KTMI-2002A
17.5-22.0
full
0.7
18
1.35
0.5
GWB
5.0×5.0×3.1
KTMI-2602A2
24.5-28.35
full
1.2
18
1.40
0.5
GWB
5.0×5.0×3.1
KTMI-2802A1
28.0-33.0
full
1.1
15
1.50
0.5
GWB
5.0×5.0×3.1
KTMI-3002A3
33.0-37.0
full
1.0
16
1.40
0.5
GWB
5.0×5.0×3.1
KTMI-3002A7
36.0-38.0
full
1.0
18
1.35
0.5
GWB
8.0×5.0×3.1
KTMI-4002A
43.5-45.5
full
1.5
15
1.50
0.5
GWB
3.5×4.5×3.5
Notes:
1) All the above specifications are at room temperature (25℃±5℃).
2) Standard P/N is Clockwise (CW) Rotation. Add letter "R" at the end to P/N for a Counter Clockwise (CCW) Rotation.
3) Product information are subject to change without notice.
We offer micro-strip isolators with small size from 4.0GHz to 45.5GHz with full bandwidth. These devices are made of thin film technology, golden leads and ferrite material. Kete Microwave supplies the devices with high quality and stable performance over a long period of time. The devices have a temperature range from -55℃ to +85℃. All devices are available RoHS Compliant. If your requirement is not covered in the following table, please consult with Kete Microwave.