Drop-in Series
Home > Products > RF Isolators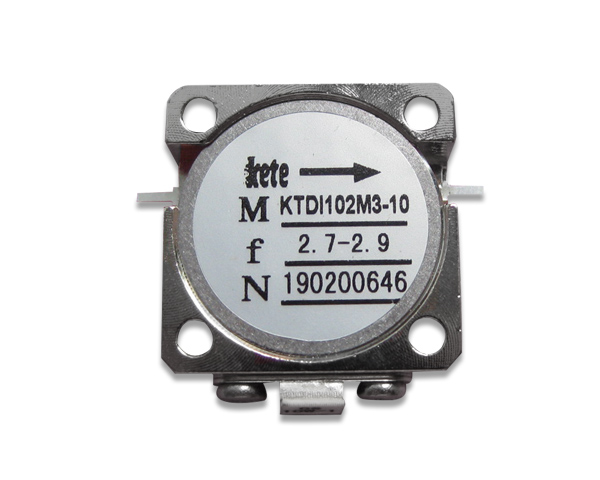 Features
• Broad Selection of Frequency
• Low Insertion Loss, High Isolation, Low VSWR
• Wide Operating Temperature Range
• Customize Design Available Upon Request


Product Guide
Product Description
Part Number
Frequency Range (GHz)
Bandwidth (MHz)
Insertion Loss (dB) Max.
Isolation (dB) Min.
VSWR Max.
Reverse Power (W)
Connector Type
Dimensions
LxWxH (mm)
PDF
KTDI-0101A
0.108-0.118
10
0.6
18
1.30
100
TAB
70×(70+4.5)×15
KTDI-0102A
0.14-0.24
10
0.6
18
1.30
100
TAB
70×(70+3.0)×15
KTDI0102M-100
0.20-0.40
30
0.5
18
1.30
100
TAB
50×60×14.5
KTDI-0402A
0.35-0.55
45
0.4
20
1.25
10
TAB
44×(45.5+4.5)×15.6
KTDI0402-100
0.35-0.55
45
0.4
20
1.25
100
TAB
44×54×15.6
KTDI-0702M1
0.5-1.0
75
0.4
23
1.20
10
TAB
35×38×13
KTDI0702M1-100
0.5-1.0
75
0.4
23
1.20
100
TAB
35×46×13
KTDI-0902M
0.8-2.2
75
0.4
23
1.20
10
TAB
20×20×8.5
KTDI0902M-100
0.8-2.2
75
0.4
23
1.20
100
TAB
20×27.5×8.5
KTDI102M-10
0.8-2.2
150
0.3
23
1.20
10
TAB
2.54×25.4×10
KTDI-102M6
0.8-2.2
150
0.3
23
1.20
100
TAB
25.4×31.7×10
KTDI-102K11
1.1-2.5
100
0.3
23
1.20
10
TAB
16×16×6.5
KTDI102M3-10
1.2-3.8
150
0.4
23
1.20
10
TAB
19×19×8
KTDI102M3-100
1.2-3.8
150
0.4
23
1.20
100
TAB
19×25.4×8
KTDI-102K2
1.55-1.65
full
0.4
20
1.25
10
TAB
15×16.5×6.6
KTDI-202M
1.8-3.8
150
0.5
20
1.25
10
TAB
12.7×12.7×7.2
KTDI202M-30
1.8-3.8
150
0.5
20
1.25
30
TAB
12.7×16.5×7.2
KTDI-202M9
1.8-3.0
120
0.5
18
1.30
10
TAB
11.5×11.5×7.0
KTDI-302C2
3.0-7.0
250-500
0.4
20
1.30
10
TAB
12.7×12.7×6.4
KTDI-402A
3.5-8.0
300-600
0.4
23
1.20
10
TAB
16×23×10.5
KTDI-402M1
4.0-5.0
500
0.4
20
1.25
10
TAB
8×10×6
KTDI-702M4
4.5-16.5
525-4000
0.4
20
1.25
10
TAB
12.7×14.5×5.1
KTDI-902M3
6.0-17.0
600
0.4
20
1.25
10
TAB
9×14×5.1
KTDI-1002E
7.0-18.0
300-1300
0.4
20
1.25
10
TAB
8.9×15×7.7
KTDI-1002L
14.0-18.0
2500
0.4
20
1.25
10
TAB
9×10×6.5
KTDI-2002
18.0-24.5
2150
0.6
18
1.35
2
TAB
12×16.5×11
Notes:
1) All the above specifications are at room temperature (25℃±5℃).
2) Standard P/N is Clockwise (CW) Rotation. Add letter "R"at the end to P/N for a Counter Clockwise (CCW) Rotation.
3) Product information are subject to change without notice.
Kete Microwave supplies a series of RF drop-in isolators from 108MHz to 24.5GHz, the bandwidth from 10MHz to full. These devices are made of magnets and ferrite material. We offer ferrite devices with high quality and stable performance over a long period of time. The devices have a temperature range from -40℃ to +85℃, high reverse power of RF isolators from 2W to 200W. All devices are available RoHS Compliant. They are widely used in remote sensing, telemetry, electronic countermeasures, radar and communications etc. Here list out a part of part numbers. Please you contact us for more products.