Tab & Cover
Home > Products > High Power RF Terminations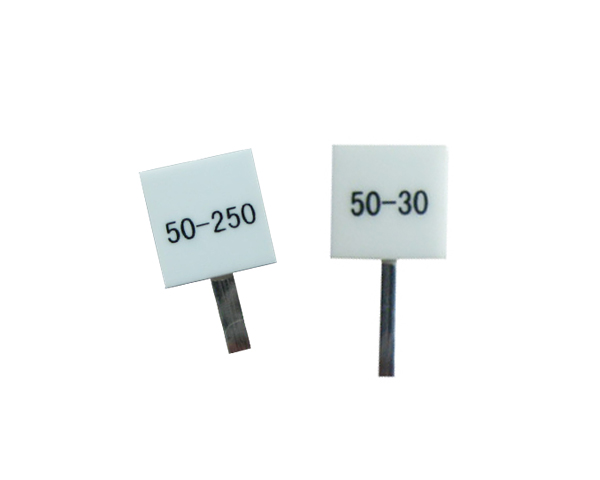 Features
• Nominal Impedance: 50 Ω
• Resistive Tolerance: ±5% standard; ±2%, ±1% available
• Power Rating: 3W-500W
• Frequency Range: DC-18GHz
• Operating Temperature: -55℃ to +150℃
• Temperature Coefficient: <150ppm/℃
• RoHS Compliant

Tab & Cover E-Catalog
Product Guide
Product Description
Part Number
Power Rating (W)
Frequency Rang (GHz)
VSWR (Max.)
Dimensions (mm)
Outline Drawing
L
W
T
H
I
Tw
TT50-10-707A
10
DC-3
1.20:1
4
4
1
1.9
4
1
Figure 1
TT50N-20-308A
20
DC-3
1.20:1
5
2.5
1
1.9
4
1
Figure 1
TT50-20-206A
20
DC-18
1.35:1
3
2.5
0.6
N/A
N/A
N/A
Figure 1
TT50-20-416A
20
DC-18
1.35:1
5
2.5
0.6
N/A
N/A
N/A
Figure 1
TT50N-100-503B
100
DC-3
1.20:1
5.7
8.9
1
N/A
6
1
Figure 2
TT50-150-718A
150
DC-10
1.35:1
12.7
12.7
2
N/A
N/A
N/A
Figure 1
TT50N-150-701B
150
DC-3
1.20:1
6.35
9.5
1.5
N/A
3.2
1
Figure 2
TT50N-150-323B
150
DC-3
1.25:1
9.5
6.35
1
N/A
6
1.4
Figure 2
TT50N-150-306B
150
DC-3
1.25:1
6.35
9.5
1
N/A
6
1
Figure 2
TT50N-250-019A
250
DC-3
1.20:1
9.5
9.5
1.5
2.4
3.5
1.4
Figure 1
TT50N-250-252B
250
DC-3
1.20:1
9.5
9.5
1
N/A
6
1.4
Figure 2
TT50N-250-011B
250
DC-2.5
1.20:1
9.5
9.5
1.5
N/A
6
1
Figure 2
*Customized products are available, please consult withKete.
Kete Microwave manufacturers leaded terminations on AlN, BeO or Alumina. These leaded terminations are available in numerous sizes.TR serial high power resistors rated power 3W-500W, frequency range DC-18GHz. The impedance range 4Ω~ 400Ω available, standard resistor 50Ω. These RF terminations are designed and manufactured with high quality materials to guarantee good and stable performance.
The applications of high power resistor include base station, power amplifier, isolator and circulator, splitters, combiners, radar system etc.